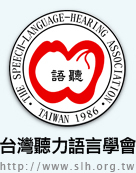 THE SPEECH-LANGUAGE-HEARING ASSOCIATION, TAIWAN
The role of the Association
The association was established in 1986, and our role is to provide quality service to our members, coordinate professional development events in the field of speech-language and hearing, and to hold academic exchange events with others internationally.

The Speech-Language-Hearing Association of Taiwan is the professional and scientific association representing for over 904 members. Members and affiliates are speech-language pathologists, audiologists, and speech, language, and hearing scientists who work in hospitals, rehabilitation centres, schools and education centres, private practice, and organizations for those with specific disabilities.

Mission
Our mission is to empower and support speech-language pathologists, audiologists, and speech, language, and hearing scientists by:
Advancing communication science

Facilitating and promoting opportunities for continuing professional education

Exchanging academic opinions with other professions in Taiwan and internationally

Providing publications on professional issues and up-to-date research
Creating assessments, diagnostic tools and therapeutic materials.

Scope of practice in Speech-Language Pathology
Speech-language pathologists provide assessment, intervention and counseling in the following areas:
Speech deficits: articulation disorder, fluency disorder, voice disorder, and motor speech disorder
Language disorders: preschool/school-aged child language disorder and aphasia
Swallowing and feeding disorder
Clinical services
Speech-language pathologists provide services to individuals, families, and groups from diverse linguistic and cultural backgrounds. Intervention and support services are provided for children and adults from neonate to elders diagnosed with speech, language and swallowing disorders.
Speech Language Pathology training program
Currently in Taiwan, there is 6 undergraduate and 4 graduate school of speech, language and hearing sciences and disorders. The curriculum includes classroom teaching, clinical observation and clinical practicum. All students are required to complete 375 hours or at least 6 months of clinical practicum before graduation. These graduates will have obtained national speech language pathologist license before they provide clinical services.

Scope of practice in Audiology
Audiologists provide:
comprehensive diagnostic
treatment / rehabilitative services for individuals with auditory, vestibular, and related impairments.
These services are provided to individuals across the entire age span from birth through adulthood.

For more information, please visit us: www.slh.org.tw